Ya'll I have a surprise for you!!! I have my very first giveaway!! Thank you to
Angel Heart Designs
for sponsoring this!
Angel Heart Designs
provides Cottage and Shabby Style Ceramics: Cupcake items, Holiday items and Home decor, Roses, Clocks, Tea Pots, and more even special orders.
And the giveaway is:
Vintage Birds Ceramic Wedding Cake Toppers in White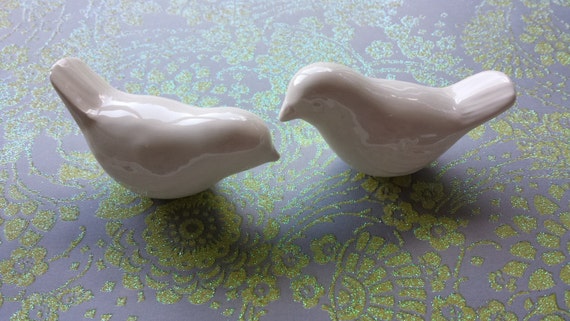 Elegant white little birds vintage design for your wedding cake and home decor.
Retail for $18
They measure across by about 3." high 1.5 " by 1.5" wide
7.6cm X 3.8cm
These are pored from a vintage mold, clean fire to bisque, then glaze again, with the color.
Beautiful...don't have to be used for a wedding could be decorative accents in your home, maybe in a plant...or whatever strikes you.
So details details...How do you win these adorable birds??
1. You must be subscribed to my blog (should be a join button to the right)
2. Leave a comment below (any comment works)
3. I will notify the winner by December 20th!
Good Luck!!
Blessings